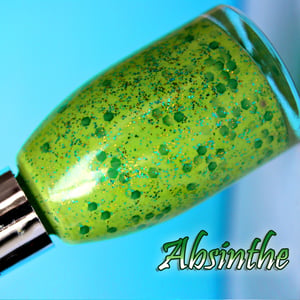 £

4.00
Absinthe the bringer of the green muse or fairy. I love this color and is one of my personal favorite it's so bright and vibrant, a gorgeous lime green creame color with lovel deep jewel gemstone green glitters sitting in a pool of fine gold, green and aqua micro glitter. If there is any color I'd love people to notice it's this one! It's gorgeous on the nail!
••••••••••••••••••••••••••••••••••••••••••••
❧ This listing is for ONE FULL SIZE (0.5 oz. / 15ml) bottle. This is not a mini size bottle.
Also we are FREE of the BIG 3!! yay!
NO dbp
NO toluene
NO formaldehyde
••••••••••••••••••••••••••••••••••••••••••••
❧ Please Be Aware: All goods are handmade and might slightly differ from one to the next. Also due to the custom blend of these product some glitter may settle when shipping, that's why all our polishes come with steel balls inside and will quickly mix with a good shake.
••••••••••••••••••••••••••••••••••••••••••••
❧ Yikes! Glitter can be stubborn ! ( Follow these helpful hints on removal.)
Step 1: Completely saturate a cotton ball with acetone nail polish remover. Next, set the soaked cotton ball on your pinky nail and let the cotton ball sit there for at least 30 seconds
Step 2: Repeat the process on each of your fingers and thumb and sit back and relax while the remover works its magic.
Step 3: Now apply a gentle pressure and drag the cotton ball in a downward motion swipe.
Step 4: 99% of the polish should have slipped right off, repeat steps one through three on the opposite hand.